As stated in my lipstick haul post, I rarely wear make up except for lipstick and concealer, so this make up pouch is definitely out of the blue, right? I agree XD
Well, I put together this pouch and learnt about make up for a violin recital a few years back.
So without further ado, let's check out what's inside my make up pouch!
1. Sephora liquid foundation (Shade 26)
I actually haven't used this since I really don't wear make up at all, especially since the country I live in is humid all the time and summer all year round. However, I did hear that liquid foundations give more coverage that why I went for the liquid ones! It definitely does have more coverage than it's powder counterpart although I'm not a fan of the smell.
2.Sephora Concealer (Shade 26)
If had to choose only one item to keep in this pouch, this would definitely be my choice! I use this VERY frequently since I still have a ton of acne scars from my cystic acne. I love that it's not cakey and it's really light on my skin, really good for humid countries like the one I live in.
3.Etude house Big Cover Cushion concealer (Mint)
I also heard that using green concealer helps to cover up red/ tough acne scars and bought this. It's in liquid form and it comes with a brush on top, but I'm not a fan since the coverage of this concealer isn't really good. Using the Sephora Concealer does better.
4.Tiny brushes from Daiso
I know a ton of people have large fears of buying cheap make up, but when I was learning how to use make up, I didn't want to spend a lot of money on it either, so I experimented and trained using Daiso make up and some of them were pretty good! I depended on this brush set heavily!
5.Concealer from Daiso
Before I got the sephora concealer, I was using this liquid one for learning. I must say that it doesn't give very good coverage and the shades are really limited. For me the difference in coloring isn't that bad since I'm asian, but if the shade was sold in other countries I think there would be a big problem with the limitation of shades.
6.Shiseido Make up primer
This was actually a sample, but I ended up really liking this product! It isn't sticky and it definitely helps the make up stay on!
7.Eyebrow powder from Daiso
I would actually definitely recommend this item! It's easy to use and really good for beginners! I usually use the darkest color to shade in my eyebrows and mix the first two shades to use as a little contour (I still cannot contour though).
8.Blush from Daiso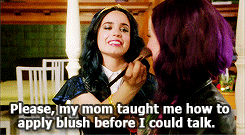 This is another product from Daiso I would definitely recommend! It's easy to apply and use! I usually mix all the colors for a light blush, but the top two can be mixed and used as a highlighter as well!
Why don't I have eye shadow?
I used to have one that I bought from Daiso in a blue spectrum, but I really suck at using eye shadow and I have no idea how to use it so I ended up discarding it after practising a ton of times. (I ended up looking like an absolute weirdo)
Yup, so that is my 'what's in my make up pouch' post! What do your make up pouches contain? Let me know in the comments down below!